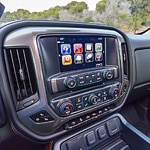 The 2020 Chevrolet Silverado 1500 is a great option if you need a pickup truck. It is great on gas because it can get up to 33 miles per gallon on the highway. This vehicle has plenty of storage space. It also has several technology features that you will enjoy.
It has an adaptive cruise control camera. You can enhance your cruise control experience by using camera technology. The system will automatically adapt to the speed of the vehicle to maintain a safe distance between you and the vehicle in front of you.
Car accidents cannot always be avoided. However, the 2020 Chevy Silverado 1500 has forward collision alert, which can help deter an accident. The system will give you an alert when you are following another vehicle too closely. You can check out the features when you take the vehicle for a test drive. Make a trip to our local dealership today.